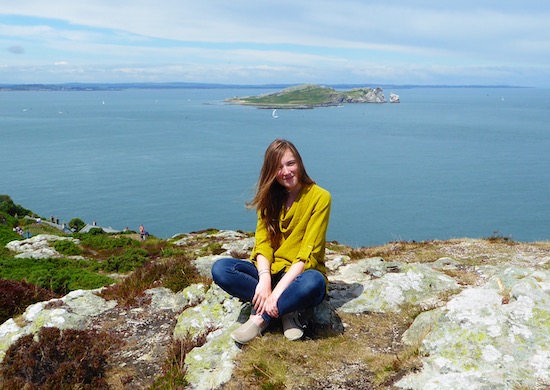 "Empathy, Patience, and a Love of Learning": An Alumna's Journey in International Education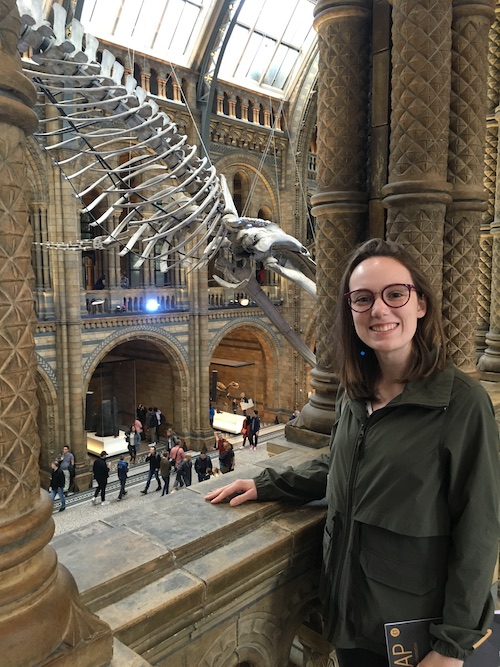 WKU alumna Emilie Gill's recent adventures include spending her time sketching at London's Natural History Museum or strolling through Grantchester when BBC/PBS was filming the TV drama "Grantchester."
Gill is currently in the last semester of an MA in Children's Book Illustration from the Cambridge School of Art at Anglia Ruskin University in Cambridge, United Kingdom. Before she started pursuing international graduate education, though, Gill was well-versed in studying abroad from her time at WKU.
Gill graduated from the Mahurin Honors College with a double major in Art History and Visual Studies and a minor in Geography. While at WKU, she studied abroad four times:
Spring 2016- Semester at Massey University in Wellington, New Zealand through ISA (Art and Design)
Summer 2017- KIIS Austria (Graphic Design)
Summer 2017- Faculty-Led Study Abroad "Ireland: Mystic Landscapes of the Emerald Isle" (Geography)
Summer 2018- Faculty-Led Study Abroad "Ireland: Mystic Landscapes of the Emerald Isle" (Geography)
Gill's international education journey began before she was a student at WKU. In high school, she traveled with her family to New Zealand and stayed near Massey University in Wellington.
"I loved the place so much that I was determined to return not just as a tourist but as a student," Gill said. "How incredible it was to find that WKU offered a semester abroad to that very university through ISA!"
Gill was attracted to the program because it's known for its illustration and design program, specifically for illustration in entertainment. Gill gained experience with classes like "Book Illustration" and "Character Design," which are not offered at WKU.
Her study abroad experiences with illustration/design programs in New Zealand and Austria "confirmed [her] desire to pursue some sort of career in illustration." Gill's Honors CE/T was a 48-page illustrated short story with an accompanying paper, and both study abroad programs prepared her for the project.
While her two summer programs in Ireland weren't specific to design and illustration, Gill said that she fulfilled credits "from a global perspective with many like-minded peers and faculty who were passionate about applying what we learned on a local, regional, and global level." Gill and the other students studied different subjects, such as art, dental hygiene, business, or geology; however, "the program was structured to make geographic connections between all of [the] areas of study and the country of Ireland."
Because she enjoyed her 2017 study abroad experience in Ireland and liked her geography/geology classes at WKU, Gill added a geography minor and repeated the same program in 2018, in which she completed her minor.
Studying abroad wasn't the only way Gill was involved with international education. She was a Study Abroad & Global Representative for three semesters, and after graduating from WKU, she moved to the UK to pursue her master's degree.
After a British illustrator she liked mentioned she was an alumna from the MA in Children's Book Illustration program at Cambridge, Gill googled the program.
"I loved my studies at WKU, but I wanted my graduate studies to focus specifically on illustration," Gill said. "The MA program at Cambridge School of Art is geared toward studying and producing children's books. I haven't seen another full time program like it in the US."
Although there are prestigious graduate programs for illustration in the US, they were not as specific as the Cambridge program. The program focuses on studying and researching children's book illustrations for books aimed at ages 0-18, creating illustrated books, and learning about navigating the publishing market. Gill especially appreciates the opportunity to learn from the faculty who are book illustrators and receive international education about book illustration.
"It is even better that because I am in Europe, I have had much better opportunities to learn about the international children's book market both from teachers, guest speakers, and my international classmates who all love book illustration as much as I do," Gill said.
For Gill, studying children's book illustration isn't just an incredible opportunity to pursue international education; it's a fulfillment of a dream she's held for years.
"This has been a dream career since high school, so it has truly been a blessing to spend a year and a half 'training' to pursue the exact goal I had in high school," Gill said.
Gill's journey to studying book illustration abroad didn't appear on a whim; her undergraduate experiences at WKU were important when she applied for the graduate program.
Gill's study abroad experiences eased the application process because she had applied to study abroad four times. Anglia Ruskin University also encourages current students to study abroad, and they have "a large international student population" with activities and events for acclimation.
Gill was also thankful for the resources WKU provided. The Office of Study Abroad & Global Learning offered opportunities that prepared her for international graduation education, and the faculty at WKU helped her with her illustration studies and goals.
"They were so accommodating throughout my time as an undergraduate; even if they didn't have resources that directly applied to what I wanted to study, there were faculty members who would go out of their way to research resources or restructure an assignment to better fit my goals," Gill said. "Allowing me to make my CE/T an illustrated book and thesis paper was like practice for the exact assignments I am doing now as a graduate student."
Gill plans on staying in the UK for a short time after completing her program, but she will return to the U.S. so she can market her illustration work.
"In an ideal reality, I'm living my best life as an illustrator in a forest hut in New Zealand. Or Greenland," Gill said. "But I'm flexible to whatever path presents itself."
For those interested in pursuing international education, Gill advises to "just go for it." When studying abroad as an undergraduate, students are guided on personal and financial aspects that they couldn't receive when traveling by themselves. While students receive help from faculty, study abroad advisors, host families, and friends, they also learn about independence, risk-taking, and personal growth.
Gill said that WKU offers several study abroad programs with different lengths, locations, and areas of study that are "the right fit for everyone." She also said the study abroad advisors were "extremely clear and helpful" when informing her about the different opportunities, decreasing the stress of the application process.
Gill also advocates for longer programs, when possible. She loved her summer programs and said they are great for first-time programs, but her semester program introduced a longer immersion into the culture.
"My semester program gave me the chance to be truly immersed in local culture, make close friends, and fall in love with all of the cultures that converged in Wellington," Gill said. "It almost wasn't long enough."
When it comes to choosing a program, Gill said there is no right answer.
"Unless it's New Zealand," Gill joked. "New Zealand is always the right answer."
For students interested in international education for graduate school, Gill recommended doing research. Gill said there are "unique and rather affordable" programs that may be shorter than U.S. programs.
From four study abroad programs to a master's abroad, Gill has a plethora of international education experience, and she emphasized the personal growth that she and most study abroad alumni gain.
"Most everyone I've met who have studied abroad seem to have gained some special elevated empathy, patience, and love of learning," Gill said. "I hope I have picked those things up too."
Interested in studying abroad? Head over to https://www.wku.edu/studyabroad/ to find out more, and be sure to follow us on social media for more study abroad content.
Facebook: WKU Study Abroad & Global Learning
Instagram: @wkustudyabroad
Twitter: @WKUStudyAbroad