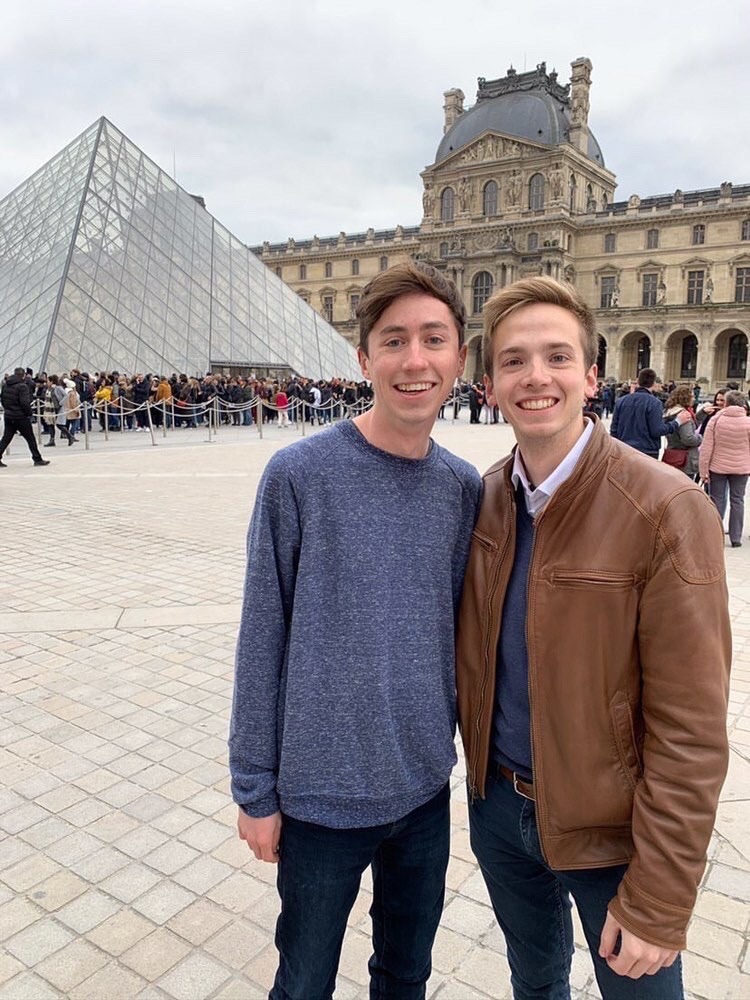 'Living on a Prayer:' Two Alumni's Experiences Teaching in Spain During the COVID-19 Pandemic
WKU Alumni Blake Pawley and Trevor Hoffman started their global learning experiences when they studied abroad during college, but their desire to pursue international experiences didn't end with graduation. In October 2019, Pawley and Hoffman moved to Madrid, Spain, to start jobs teaching English in public schools.
Pawley, who graduated in 2018 with an International Business degree, studied abroad twice: Harlaxton College during spring 2016 and Prague, Czech Republic, during spring 2017. Pawley was required to study abroad at least once for his degree, but one experience abroad did not fulfill his global learning ambitions.
"My love for other cultures, languages, and places kept me hungry for new experiences to fulfill and enjoy the many opportunities college had to offer," Pawley said.
Pawley's experiences studying abroad allowed him to grow academically, professionally, and personally to prepare him for a future in international business. Pawley said living and studying in an environment with languages and cultures outside his own "is of the utmost importance with international business," and studying abroad provided him with this opportunity.
"I believe respecting local customs, familiarizing yourself with various political, economic, and other pressing world issues, and meeting people from all facets of life mentally prepares you for an international career," Pawley said.
Even when he was back in the United States, Pawley continued to pursue his global learning experiences by becoming a Student Representative for the Office of Study Abroad & Global Learning. In an environment of "driven, diverse, and open-minded people," Pawley shared and learned about other individuals' study abroad experiences, helping to "bring the world to other Hilltoppers."
After graduation, Pawley accepted a job in Nashville, Tennessee, at HealthStream. HealthStream is an online healthcare training company. Although HealthStream treated Pawley well, he grew "restless" in an office job that consisted of working online and remaining in Nashville; he realized that he could not stay with the company if he wanted to "live [his] dreams of working abroad long-term."
After a friend he met while studying abroad in Prague informed him of a job in Spain teaching English, Pawley considered keeping his job in Nashville to see what the future may hold, but he ultimately decided to take the opportunity in Spain.
"My heart eventually persuaded my hard-headed mind to go follow her there and trade my desk job into a new career and start another exciting adventure," Pawley said.
Pawley's decision to apply to teach English in Spain inspired Hoffman. Hoffman, who graduated in 2019 with degrees in Biology and Spanish and is on track to begin medical school in fall 2020, heard about the program from Pawley and decided to apply for a ten-month contract during his gap year.
Hoffman studied abroad with Sol Education Abroad in Buenos Aires, Argentina, during the 2017 winter term and with KIIS in Segovia, Spain, during the 2017 summer term. He stayed with a host family during both programs, and he improved his Spanish-language skills. When he was in Argentina, Hoffman shadowed nurses and doctors at a local hospital, giving him the opportunity to learn about medical procedures and speak with patients in Spanish.
Like Pawley, Hoffman became a Student Representative for the Office of Study Abroad & Global Learning, which allowed him to use the skills he gained abroad to encourage and advise students exploring study abroad opportunities.
Pawley and Hoffman are English teaching assistants, officially known as auxiliar de Conversación (aux) for the Madrid public school system, and they secured positions through the ConversaSpain program. Auxs work in either bilingual schools that teach most subjects in English or non-bilingual schools that only use English for English classes, and their duties are to assist with English instruction.
Pawley teaches at a non-bilingual school where most classes are not taught in English, but students are still taught English from an early age. In addition to helping in the classrooms, Pawley sometimes gave private lessons to students.
"I love being able to talk to my kids and fellow staff in person rather than over the phone or via computer screen," Pawley said. "I have formed amazing bonds with them through my planned group activities, class presentations, or just ordinary discussions about their lives all while improving their English and teaching them about the anglophone world."
Hoffman, on the other hand, teaches at a bilingual school where all classes except for Math and Spanish are taught in English. Hoffman said the specific duties of auxs change depending on the needs of the schools, teachers, and students. Hoffman prepares lessons to teach classes, leads activities in classes, and helps students practice English in small groups or one-on-one.
Hoffman credits studying abroad for allowing him to be successful in this position. While studying in Spain made him familiar with the country and culture, his experiences overall helped him become "more comfortable moving away from home for such a long time, trying something completely new – like teaching, and dealing with stressful challenges."
Living and working in Spain presented opportunities for Pawley and Hoffman to grow in different areas. Although Hoffman majored in Spanish and studied abroad in Spain before, Pawley's only experience with the language was memorizing a prayer in Spanish during a middle school class.
"I kept repeating that I was truly living on a prayer when I arrived in October," Pawley said.
Pawley's Spanish improved through weekly lessons and practice, and he is able to read most Spanish and hold basic conversations, but the path toward theses skills has been "trying."
"I have been embarrassed on many occasions, making a fool of myself for using incorrect words or completely misinterpreting a question," Pawley said. "It has taken a lot of patience and hard work and will take so much more to eventually achieve fluency. In a way, it has humbled me and rewarded me with more cultural understanding that comes with knowing the local language."
Although Hoffman had the Spanish skills and experience studying in Spain, he quickly discovered the challenges of working in a different country, such as securing a visa, housing, a bank account, health insurance, and more. Finding an apartment was especially difficult. However, after Hoffman and his roommates found an apartment, they knew "there wouldn't ever be anything else we couldn't handle."
"Living and working in Spain has allowed me to take my problem solving skills to a whole new level," Hoffman said.
Though adjusting to work in a different country is challenging, it has its rewards. Pawley's favorite memory was his first day.
"I was so excited to finally have a job where I wasn't sitting all day and staring at a computer," Pawley said.
For Hoffman, having tourists approach him and ask questions are confidence-building moments that prove how much he has grown.
"It was a really good feeling to be mistaken for a local because it reminded me that I was truly living in another country," Hoffman said. "The best feeling would also be when I actually knew the answer to the question and could help them get somewhere in a huge place like Madrid even though I had only been living there for a few months."
Unfortunately, Pawley's and Hoffman's experiences abroad changed dramatically when the COVID-19 outbreak hit and Spain was quarantined. According to Pawley, being confined to his apartment is "a huge lifestyle change" that was likely felt by most of Spain.
"The Spanish are one of the most culturally social people in the world, often meeting friends and family over tapas and a drink or a homemade meal," Pawley said. "With all restaurants closed and people confined to their homes with the exception of grocery shopping or emergencies, it feels like a different place."
Although Hoffman returned to the U.S. to work from home and prepare lesson plans or activities for students, he attested to the concerns surrounding the quarantine because "no one really knows when Madrid will be re-opening, when schools will go back, and how long this will last."
Despite the uncertainties associated with the quarantine, both Hoffman and Pawley continue to praise the experience of global learning. Hoffman will be in the U.S. for medical school, but he believes he may go abroad again.
"Although I'm not sure what the future holds, I have a love for being abroad and definitely see myself being abroad for an extended period of time again," Hoffman said.
Pawley plans on returning to the U.S in July, but there are still concerns about how the virus may impact his plans to return to Europe to complete a second year of teaching. He had to deal with visa issues and ensure all his documentation for returning to Spain in September was valid, although there is the possibility that the program may not happen.
The pandemic and quarantine have not lessened Pawley's passion for travel, however, and he hopes it does not for other people as well.
"I sincerely hope these rough times and fallout from COVID-19 doesn't heavily impact people's desire or ability to explore, travel, and see the world in the long term," Pawley said. "I know many things will likely change after this crisis, but I will be heartbroken if the world is forever scared to leave home, get out of their comfort zone, and go."