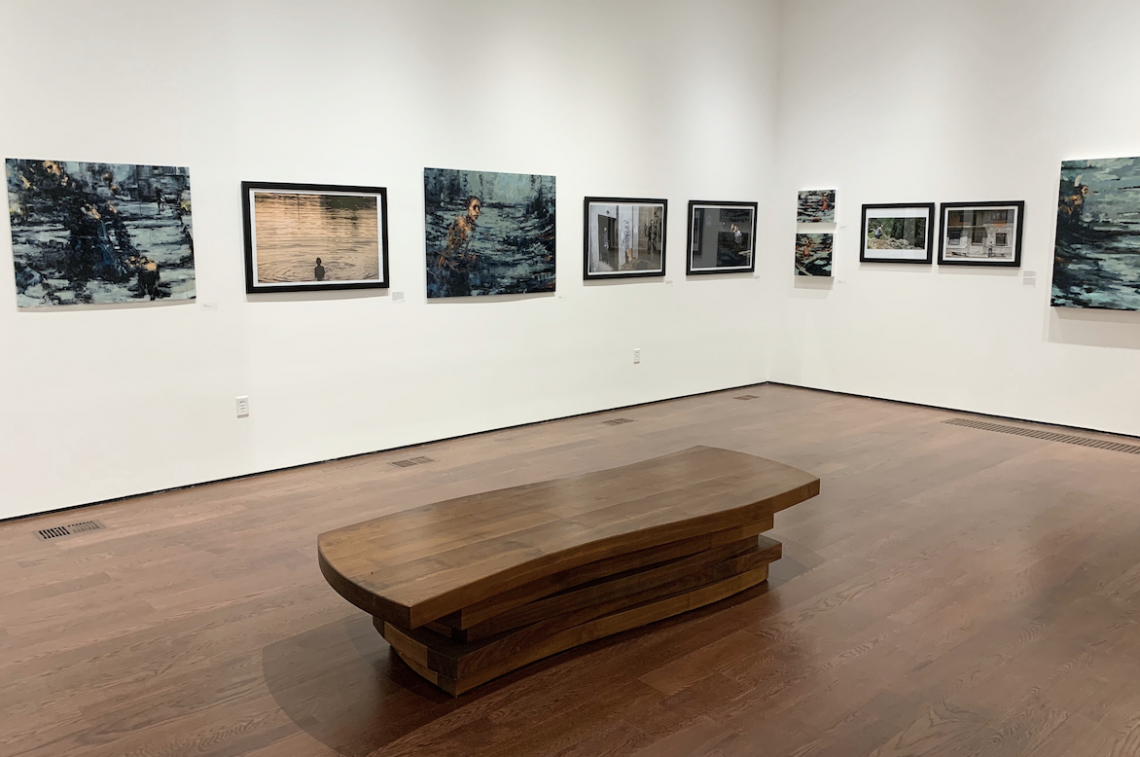 Responding To Bosnia: The Downing Museum to host a reception & gallery talk featuring the work of two WKU faculty members
Post-war struggle and perseverance are still prevalent in the daily lives of those living in Bosnia and Herzegovina decades after a horrific war broke out that lasted several years. Through the exploration of mourning and what it means to return to "normalcy," two WKU faculty members, photographer James Kenney and artist Yvonne Petkus, utilized the 2017 Zuheir Sofia Endowed International Faculty Seminar (ZSEIFS) fellowship program to make connections with those whose stories illustrate the trials and hardships endured in an effort to overcome a complex past.
WKU's International Year Of series started in 2014 in an effort to recognize different cultures by creating a year-long immersive experience focused on a specific country that includes course-work related to that country, research projects, campus and community events, exhibits, lectures, guest speakers and study abroad opportunities. The 2017-2018 academic year focused on Bosnia and Herzegovina, a country that endured war from 1992-1995, with exhibitions in the Kentucky Museum and Ivan Wilson Fine Arts Center. For the 2019-2020 academic year, IYO dedicated an interim year to revisit and reflect on countries from previous IYO's, including Bosnia and Herzegovina.
The names of Petkus' individualized paintings establish different sentiments in the midst of chaos, with titles such as, "Flight," "Untitled (Seeker)," "Wreckage" and "Dash (Siege of Sarajevo)," that establishes a common theme throughout her works: trauma. Her impasto technique that builds layers of paint on top of one another creates a blue and black abyss as the barely recognizable features of those caught in the middle of conflict are established with dashes of warm colors in contrast to the brooding landscape in the background.
Figures flee and struggle to prevail in nearly every scene Petkus depicts and her artistry makes it seem as if these people are stuck in time, moving slowly through the thick paint but unable to escape their surroundings. Although the contrast in colors separates figures from the background, the paint blends in a way that is symbolic of being dragged by the weight of the war and its remnants that still weigh heavily on those who lived through it.
Petkus' experience in Bosnia led her to focus on a big exhibition called "Proof of Existence" that included 12 Bosnian and Balkan artists ranging from those who still live in Bosnia or are part of the Bosnian diaspora, and one of the artists was one of Petkus' former students who was the first Bosnian baby born in Bowling Green.
"So we tried to make this inclusive exhibit that was about contemplation, understanding and a place to… reflect on the war and people," Petkus said.
Process-based painting is Petkus' method that allows her to respond to experiences by looking at multiple sources with a philosophical point of view. She has previously responded to other traumatic experiences such as the Boston Marathon bombing, and as a runner herself, said it's something that has stuck with her that translated to her work about Bosnia. The "running gesture" is a concept that has influenced her work and is prevalent in the aforementioned titles of her work on exhibit at The Downing Museum.
"The run gesture has been present in my work even from grad school, and there's a lot behind that for me – historically, it meant more than just running," Petkus said. "But when I was in Bosnia, I would see photos taken during the Siege of Sarajevo, of people in a gesture, of what I call a "dash." They're running across the street doing their normal activities of getting groceries or trying to go from one place to another, with the threat fo snipers, unseen. This run, I found through my sketches, had a different weight and a different meaning than before and I have since created several 'Dash' paintings from those sketches."
While Petkus' works depict the reality of the midst of war, Kenney's photographs complement them by giving a glimpse of the aftermath. Some of Kenney's photos show a genocide memorial established to honor those remembered in the war, while another photo shows a little girl standing in a window who is part of the Banlozi Romani community, a group of victims forgotten by it. Grief, loss, and hope are central to Kenney's photographs, especially the story of Gina Dzelil, a Bosnian whose family fled the war and eventually ended up in Bowling Green. Her father returned to Bosnia and Herzegovina in an attempt to rescue her grandparents but was ultimately captured and killed. Years later, Gina married and returned to her home country and photos show her visiting her childhood home as well as the area where her father was killed.
Petkus and Kenney worked together to create a series of artworks and photographs that captured the essence of what it means for Bosnians to face a new reality after all traces of familiarity has been stripped away from them. Petkus' oil on canvas paintings paired with Kenney's photographs collectively depict what it means to move forward while still being tied to the past. Twenty-five years after the Bosnian War, Bosnians are still working on rebuilding their communities, their culture and most importantly, their identities.
The reception for the IYO: Responding to Bosnia Exhibition will be Friday, Feb. 7 at 6 p.m. at The Downing Museum, 4801 Morgantown Road. Foods from Bosnia and Herzegovina will be featured, courtesy of WKU's Office of Global Learning & International Affairs. The exhibition will be on display until April 4.