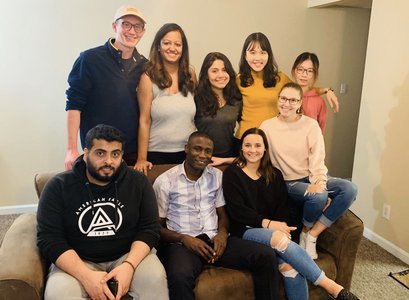 My Journey from a Student to a Diplomat
I transferred to WKU in January 2016. I was a week late for the Spring semester, so I missed out on the orientation and I did not get a proper introduction into WKU's international community because of it. I was part of the WKU track team between 2016 and 2019. Being a student-athlete takes a lot of time and it keeps you busy, so I never really had time to connect with other international students outside of the track team or participate in the events that were organized on campus for international students.
It wasn't until Spring 2019 when I learned about International Student Diplomats in WKU. I was about to be done with my four seasons on the track team and my athletic scholarship wouldn't extend to my last year of graduate school. I was looking for all the scholarship opportunities that I could find. I somehow heard about the International Student Diplomat position and the scholarship that comes with it, so with no hesitation, I applied to be an International Student Diplomat. The application process was super easy, and the interview wasn't as scary as I thought it would be. I don't really like presentations or interviews, so I was dreading it a little, but it went great and I was one of the selected students for an International Student Diplomat position.
Applying to be an International Student Diplomat has been by far the best decision I have made during my time at WKU. I enjoy helping others and that is what we do all the time. We help out during the orientation and get to know our new students, so they feel that they are welcomed in WKU and they have people to reach out to when they miss home, or they need help with anything else. It is great to help other students overcome some of the difficulties that I had during my first year at WKU. We also connect with prospective students who are reaching out to us to get to know more about WKU. We also organize fun events for international students at WKU to give them an opportunity to get to know each other and learn about other cultures.
In addition to getting to know students, when I became an International Student Diplomat I also gained an awesome group of fellow Diplomats. I have learned about their cultures so much during this past year and it is so fascinating to find out what they are interested in or what type of food they eat. It is also great to have Diplomats from various countries because it gives us many different perspectives on situations or events that we plan. Moreover, the staff that we work with is super helpful and you never feel like you are alone. You definitely gain another family when you join the International Student Diplomats team.
If you are hesitating a little and don't know if you can be a Diplomat, don't worry you will be just fine. You just need to be eager to learn, have some enthusiasm, and you will have some of the best time of your life 🙂